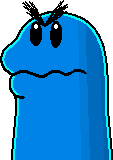 Bob The Blargg
is the most powerful boss any Yoshi has ever faced.
He is first seen in
Yoshi's Island 3 Revenge of King BOO
. He is a giant Blargg with razor sharp teeth. It is rumored that he may use a knife to clean his teeth.
Rumor has it that not even Rainbow Yoshi can beat him.
Bob likes to swim and he got his swimming trophy one day.
One Christmas, Bob didn't get a present, then Rainbow Yoshi gave him one.