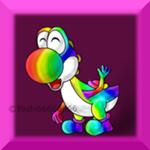 Welcome to the Wiki
Edit
Welcome to the wiki. We're a fandom for yoshi that anyone, including you, can edit. Please join Yoshi Wiki also. As of Sunday, January 21, 2018, we are editing 21 articles. By the way, the slurrpee ad that non-users see is not the background I made.
Describe your topic
Edit
This is a fandom for yoshi. Please join this wiki to help make it grow
the yoshi island times
Edit
Guidelines
Edit
please read and follow the Writing Guidelines.
Promotion Requirements
Edit
here are the requirements for being promoted. Promotion requirements
Bureaucrat vote page
Edit
Chat rules
Edit
please read our Chat rules.
Affiliates
Edit
The Adventures of Yoshi, Boo, and Paratroopa Wiki
Super Mario: The Dream Crystal Wiki
Here is a page to practice editing and test new features Sandbox
Latest activity
Edit
Ad blocker interference detected!
Wikia is a free-to-use site that makes money from advertising. We have a modified experience for viewers using ad blockers

Wikia is not accessible if you've made further modifications. Remove the custom ad blocker rule(s) and the page will load as expected.